HERO Sports: The Best Coverage for FCS Football And FBS G5 Conferences
HERO Sports launched in 2014 as BennettRank, a computer ranking of all major men's and women's D1, D2, and D3 college sports. In 2015, BennettRank rebranded to HERO Sports and expanded beyond rankings to content. HERO Sports began to cover all levels of NCAA sports. Our mission was to advance interest and appreciation for small-school athletics. HERO Sports also produced NBA, NFL, WNBA, and MLB content with our team of experienced writers.
In our coverage of all levels of college athletics, HERO Sports became a go-to site for FCS football news and analysis beginning in 2015 and into the 2016 season and beyond. We talked to dozens of players and coaches for stories every year, and our preseason and postseason All-American teams along with our preseason Top 25 rankings started to be recognized by FCS schools and conferences.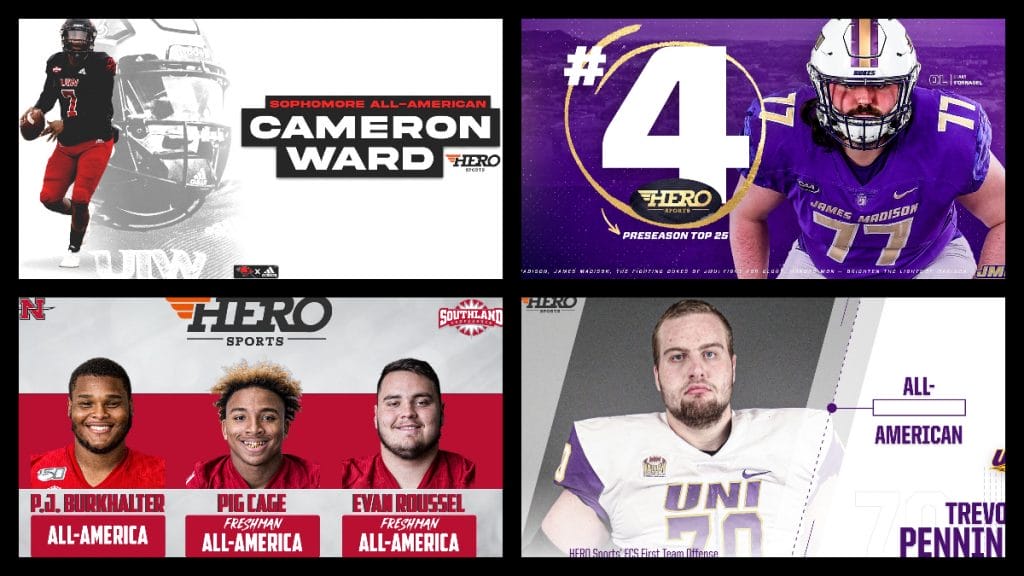 In 2018, HERO Sports began to pivot its focus from a publishing website to a content automation platform called Data Skrive. While the HERO Sports website continued to cover the FCS, FBS, and college basketball, Data Skrive and its automated content services became the second arm of the company.
In 2020, BetMGM acquired the HERO Sports website and its editorial staff. Most of the content team shifted to oversee and grow BetMGM's blog, The Roar. HERO Sports became a college football affiliate website for BetMGM with the top focus of continuing our dedication to FCS and G5 coverage through news, analysis, feature stories, and recognizing the best players.
Follow our coverage on Twitter @HERO_SportsCFB and @HEROSports_FCS.
HERO Sports Senior Staff
Sam has been the Senior FCS Analyst at HERO Sports since May 2018. His coverage of the FCS began in 2012 as the sports editor and eventual editor-in-chief of NDSU's The Spectrum. After graduating in 2015, he spent three years in the newspaper and magazine industry while starting his work for HERO Sports in the fall of 2016 as a freelancer. In 2018, he joined the website full-time.
Colton Pool is the lead FBS Group of Five writer for HERO Sports and BetMGM living in Bozeman, Montana. Previously, he covered Montana State football at the Bozeman Daily Chronicle and worked at newspapers in his home state of North Dakota.
HERO Sports Contributing Writers
The 2023 FCS season is Daniel's fifth contributing to HERO Sports/BetMGM as Correspondent. Daniel's on-campus coverage has stretched from Worcester, MA to Elon, NC. He is a junior communications major at the University of Delaware after transferring from Syracuse University.
Duane Nash is an HBCU sports expert and operator of The Yard HBCU Sports. You can follow Duane — like 9,500+ dedicated HBCU Sports fans have — on Twitter and Instagram @TheYardHBCU. Duane will give readers weekly insight into what teams will win the big games, which individuals are in contention for big honors … and much, much more.
Zach McKinnell is an FCS columnist. He is entering his fourth season covering FCS Football. He is the owner of The Bluebloods; one of the top sources for FCS Football coverage. Zach is also currently writing for Vols Wire, which is part of the USA TODAY Sports network. He is a graduate of Auburn University in Auburn, Alabama.
Marc Narducci covers FCS and G5 for HERO Sports. He covered sports for The Philadelphia Inquirer before retiring on July 31, 2021. During his time, he covered high school, college, and professional sports. Included were covering the Philadelphia Eagles in two Super Bowls, the most recent when they won their first-ever Lombardi Trophy following the 2017 season. Marc is currently writing for several publications and doing livestream broadcasting for college teams, including Temple men's soccer games on ESPN+. He is a graduate of Glassboro State College, now Rowan University in Glassboro, New Jersey.
Bennett Conlin writes about G5 football for HERO Sports. He is a sports betting reporter with Better Collective, covering sports betting industry news and legislative developments. Prior to joining Better Collective, he spent a couple years covering ACC athletics as the UVA beat reporter for a local newspaper in Charlottesville, Virginia. A JMU alumnus, Bennett appreciates the value of FCS and G5 football, and he couldn't be more excited to watch the G5 develop in a rapidly changing college football landscape.
Robert is a G5 writer for HERO Sports. Since graduating from the University of Wyoming in 2020, Robert has spent a few years covering prep athletics in southeastern Wyoming and contributing to University of Wyoming athletics coverage. Robert has won both national and state awards for his writing. He is also an avid coleslaw eater.