Like most of CUSA in general, I'm largely apathetic to CUSA football stadiums. 
There are one or two facilities that intrigue me and look like they're worth visiting in the future, while many of the stadiums are decent, but not worth making fall travel plans to visit. Sam Houston's stadium, on the other hand, could really use a future renovation as the program makes the FBS jump.
As for the stadiums I really like, Liberty and UTEP's facilities make me want to visit. Liberty is one of the more intriguing programs at the Group of Five level, as the Flames seemed poised to become a Group of Five power with significant fan support.
---
Place College Football Wagers at BetMGM!
---
Best CUSA Football Stadiums
9. Sam Houston's Elliot T. Bowers Stadium
This stadium doesn't really look like an FBS stadium. It features small seating areas and a track around the field. Other than the capacity limitation – it only seats 14,000 – and the sub-par aesthetics, what's not to like? 
8. Western Kentucky's L.T. Smith Stadium
It's fine! I don't hate this stadium, nor do I feel all that strongly about it. It's respectable, but far from spectacular. I'd prefer more end-zone seating, but that's just not a reality for a decent chunk of Group of Five venues.
7. Middle Tennessee's Johnny "Red" Floyd Stadium
I'm not blown away, but Red Floyd Stadium is a decent venue. The stadium looks slightly disjointed in terms of the size of the stands at various parts of the stadium, but other than that, I have few complaints.
Middle Tennessee also often puts a quality team on the field, which doesn't hurt creating an engaging game-day environment.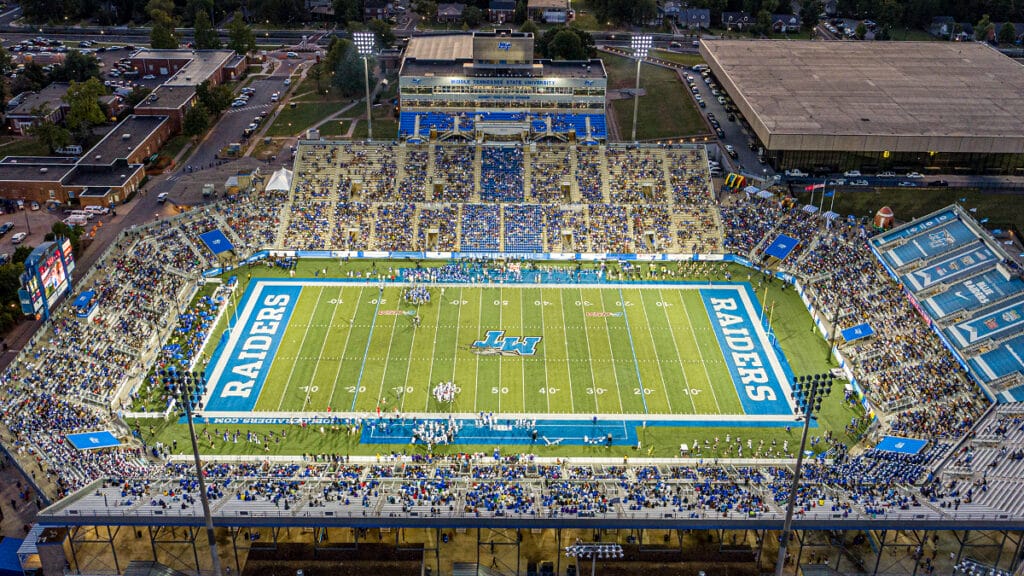 6. Louisiana Tech's Joe Aillet Stadium
With an official capacity just under 30,000, Louisiana Tech's Joe Aillet Stadium is one of the more respectable venues in CUSA. The stadium isn't my favorite from an aesthetic standpoint – the stands don't go that high and end-zone seating is limited, but it's a solid stadium.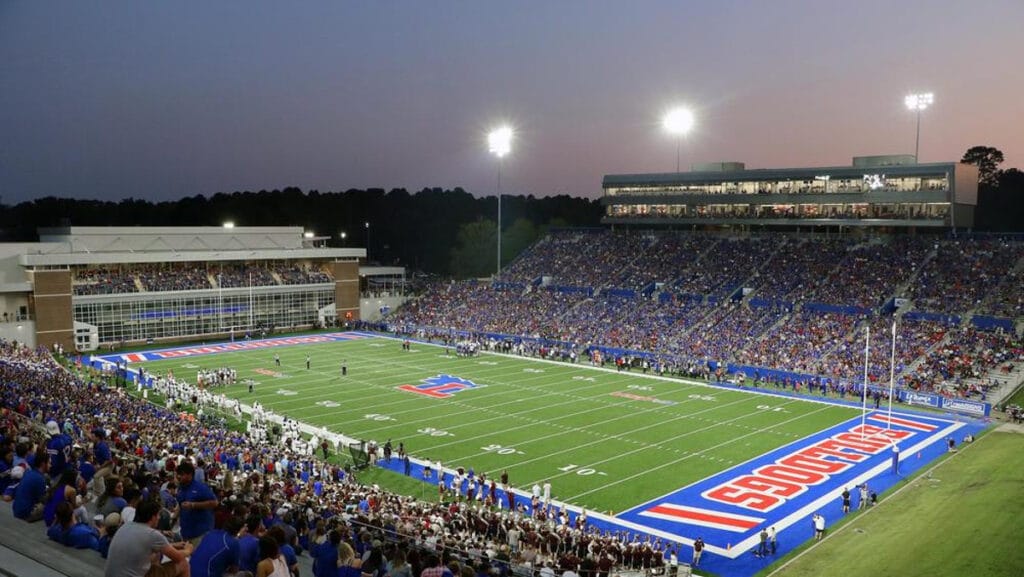 5. Jacksonville State's Burgess-Snow Field at JSU Stadium
Jacksonville State boasts a respectable stadium, which is in the process of undergoing changes. It's a nice venue, and it should be an enjoyable place to watch CUSA games for years to come. The Gamecocks certainly have the stadium of an FBS program. 
4. New Mexico State's Aggie Memorial Stadium
Could Jerry Kill give this program the boost it needs to make bowl games more regularly? Aggie Memorial Stadium is nice, and seats nearly 30,000. If the program plays well enough to attract fans, this place could develop an impressive home-field advantage.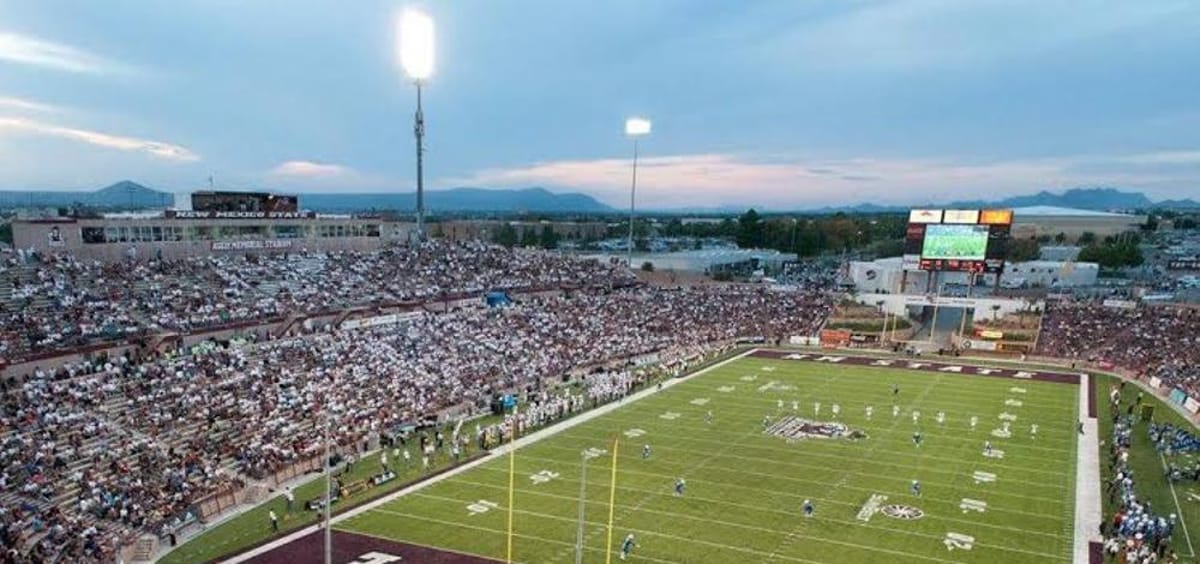 3. FIU Stadium
The venue isn't big by any means, but it includes end-zone seating on both sides and creates an intimate setting to watch college football. I like the stadium's look. While the venue is nice, it's hard to fill a stadium when the program is 5-24 over the last three seasons.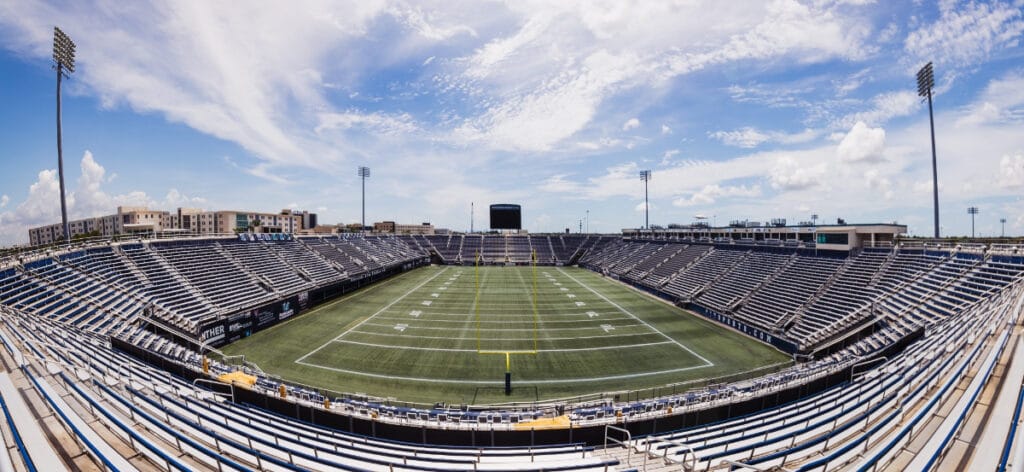 2. Liberty's Williams Stadium
Liberty has tremendous facilities, and Williams Stadium is no exception. The venue seats 25,000, but it looks like it should seat more. It's an impressive stadium for a program determined to become a Group of Five power.
The Flames have a chance to develop an impressive home-field advantage as it grows at the FBS level. Liberty's potential is arguably the highest of any CUSA team.
1. UTEP's Sun Bowl
The Sun Bowl is awesome. It holds 50,000 fans and hosts an annual bowl game. What's not to like about this stadium? Well, probably the fact that UTEP doesn't fill the stadium. Other than that, though, the venue itself is impressive.
Bennett Conlin is a college football contributor for HERO Sports, and he works full-time covering sports betting industry news and legislation for Sports Handle and US Bets.