The 2023 FCS playoff bracket has 10 auto-bids and 14 at-large bids. Eight teams will be seeded with first-round byes.
How the playoff field changes and takes shape every week is fascinating. So after every weekend of games moving forward, I will predict what the bracket will look like.
Below are predictions for the seeds, auto-bids, at-large bids, the bracket, and which teams are on the bubble.
Place College Football Wagers at BetMGM
Notes
These predictions take current playoff resumes and all future games into consideration.
This is through the eyes of the playoff committee and what I think they will do.
For more background on the playoff selection process, check out this interview with FCS Playoff Committee Chair Kent Haslam.
---
The Field
2021-2022 Final Bracketology Accuracy: 14/16 seeds correct, 46/48 teams correct
Seeds
These are playoff predictions and don't reflect my current Top 25. The numbers associated with teams may not match where I currently rank them on my ballot.
1. South Dakota State
2. Montana
3. Idaho
4. Furman
5. South Dakota
6. Montana State
7. UAlbany
8. Northern Iowa
Auto-Bids
*Clinched
Big Sky – Montana
Big South-OVC – Gardner-Webb
CAA – UAlbany
MVFC – South Dakota State
NEC – Duquesne
Patriot – Lafayette
Pioneer – Davidson
SoCon – Furman*
Southland – Nicholls
UAC – Austin Peay
At-Large Bids
Ordered from most likely to least likely to get in. Seeded teams who are not their conference's auto-bid will be at the top.
Idaho (seed)
South Dakota (seed)
Montana State (seed)
Northern Iowa (seed)
Delaware
Sacramento State
Mercer
Villanova
North Dakota
North Dakota State
21. Western Carolina
22. Southern Illinois
23. Elon
24. UT Martin
Bubble Teams Left Out
Ordered from the best chance to make the bracket out of this group to the worst chance.
25. Youngstown State
26. Chattanooga
27. UIW
28. Richmond
29. Holy Cross
30. Central Arkansas
---
The Bracket
The FCS playoff bracket is regionalized to save on travel costs. The committee tries to utilize as many bus trips as possible in the first round. Bus trips (400 miles or less) are Duquesne-Villanova, Davidson-Western Carolina, Lafayette-Delaware, Gardner-Webb-Mercer.
If a conference has four or more teams in the bracket, the committee can add an extra flight to avoid having all teams on one side of the bracket.
The committee avoids conference matchups in the first round if the two teams played each other in the regular season. However, if two conference teams did not play each other during the regular season, they may be paired up in the first round. Regular-season non-conference rematches should be avoided in the first round.
Once first-round teams are paired up via proximity, they will be slotted with the seeds that are (again) as close as possible regionally.
Teams at the top of each matchup in the bracket below indicate who we project would host, which is determined by either bid amount, revenue potential, or sometimes who is more deserving.
The order of seeds is NOT determined by regionalization. The seeds also can't be adjusted once set to even out the sides of the bracket.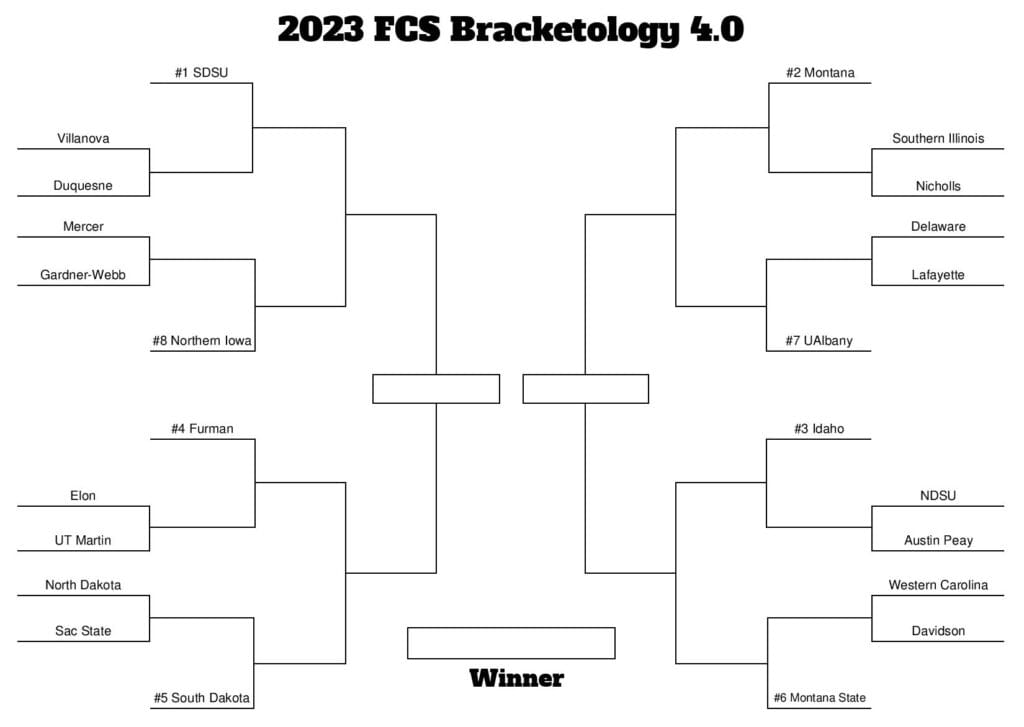 ---
The Explanation
As stated above, keep in mind this does factor in future games.
Seeds
The playoff committee considers ranked wins as victories over teams who were ranked at the time of the game. They also factor in the overall opponent record, so it evens out if a team has a ranked win at the time and that opponent then goes on to not be ranked due to multiple losses.
Ranked wins below are using the media poll rankings to maintain consistency in the resume breakdowns.
#1 South Dakota State is 9-0 and has six(!) wins over teams currently ranked in the media poll. The Jackrabbits go to ranked Youngstown State this weekend, which could be a challenge as you'll see YSU is on the bubble, before hosting Missouri State. The Jacks likely go 11-0, but even a loss this weekend probably will still result in the No. 1 seed because no one is coming close to six ranked wins.
#2 Montana has a challenging road ahead, facing a potential trap game at Portland State before hosting rival and Top 5 Montana State. How the Grizzlies are playing now, plus the Brawl of the Wild being at home, it's looking more likely they can win out to secure the No. 2 seed, finishing 10-1 overall with four ranked wins (three against Top 7 squads).
#3 Idaho should win out at Weber State and vs. Idaho State. If Montana State beats Montana, the Vandals look to be the No. 2 seed. But Montana winning out likely would bump Idaho down a spot because of Montana's head-to-head win. Idaho would be 9-2 overall with an FBS win over Nevada, only one FCS loss, and three ranked wins.
#4 Furman aims to win out by beating VMI and Wofford to finish 10-1 overall and 10-0 vs. the FCS, featuring three ranked wins. Furman's projected year-end SOS of 67th (compared to Montana's 29th and Idaho's 9th) may result in them dropping to the committee's No. 4 seed despite being No. 2 in both of this week's polls.
#5 South Dakota hosts ranked UND this week before going to Western Illinois. The Coyotes are favored to win both to finish 9-2 overall and 9-1 vs. the FCS with four ranked wins. Couple that with a projected year-end SOS of 20th, and the Yotes will have a strong argument for Top 4 seed consideration.
#6 Montana State would have an interesting resume if it beats EWU and then loses at Montana. A win in Missoula, and MSU probably goes to the No. 3 seed behind SDSU and Idaho. A loss and the Bobcats are 8-3 overall with two ranked wins. The three losses would be at the top three seeds, and at least two of them were down-to-the-wire games. Their projected year-end SOS is 6th. That resume is probably enough for a seed, but it could fall anywhere in the 6-8 range.
#7 UAlbany is on pace to break into the seeds when all the resumes are complete. The Great Danes got a 12th game due to an NCAA waiver for teams that travel to Hawaii. They'll be favored to beat Stony Brook and Monmouth to finish 9-3 overall and 9-1 vs. the FCS, including two ranked wins and a projected year-end SOS of 36th. That's not a bad resume at all.
The No. 8 seed will be competitive. The winner of the Week 12 Villanova at Delaware game could earn the No. 8 seed, as the winner would be 9-2 overall and 9-1 vs. the FCS (assuming they handle business this weekend) with a couple of ranked wins. Southern Illinois could be the No. 8 seed if it wins at ranked NDSU this week and then beats Indiana State to finish 8-3 with two ranked wins and an FBS win. If North Dakota State beats SIU and Northern Iowa beats Missouri State this week, the winner of the Week 12 NDSU at UNI game will be 8-3 with a good argument for the No. 8 seed.
The matchup on paper and it being at home favors Northern Iowa to beat NDSU. The Panthers first need to avoid a letdown at Missouri State. But if they win out, they are 8-3 overall, 8-2 vs. the FCS, own three ranked wins, end the regular season on a five-game winning streak, finish 7-1 in the tough MVFC, and have a projected year-end SOS of No. 1. That is a damn good resume that will impress the selection committee, a committee where strength of schedule is talked about a lot.
At-Large Bids
After the four at-large bids that are seeds…
As talked about above, Delaware has a shot at a seed if it wins out. The Blue Hens look to secure a bid by beating Campbell on Saturday to hit eight wins. Then a game vs. Villanova may determine a seed. Villanova can also lock in a bid by defeating Towson this weekend and hitting eight wins. Nova will be in the running for a seed if it beats Delaware in Week 12.
Sac State's blowout loss at Montana dims its ability to get a seed. With UC Davis falling out of the Top 25, Sac State doesn't have any ranked opponents remaining, so it will be 8-3 if it wins out with no ranked wins but an FBS P5 win over Stanford. A seed is possible but doesn't seem likely.
Mercer and Western Carolina need to avoid upsets to secure playoff bids. Mercer hosts Samford before a Week 12 bye. Win Saturday and Mercer should be in at 8-3 overall and 8-2 vs. the FCS with a ranked win over WCU. WCU needs to beat ETSU and VMI to also finish 8-3 overall and 8-2 vs. the FCS, featuring two ranked wins and a head-to-head on bubble team Chattanooga.
North Dakota, North Dakota State, and Southern Illinois might be three of four 7-4 teams from the MVFC fighting for three bids behind SDSU, USD, and UNI (UNI projected to finish 8-3). The winner of Saturday's SIU at NDSU game will hit seven wins to likely get into the field with a key head-to-head on the other. We'll pencil in NDSU winning, then losing at UNI in Week 12 while SIU beats Indiana State. We'll also pencil in UND losing at USD before beating Illinois State at home. While we're at it, Youngstown State loses to SDSU before beating Murray State.
So UND, NDSU, SIU, and YSU are all 7-4. UND gets in with its head-to-head on NDSU. The Bison get in with its head-to-head on SIU. This is where it gets interesting. SIU has been ranked much higher than YSU. The Salukis would have one ranked win (either at the time of the game over SEMO or against currently-ranked Austin Peay) and an FBS win over Northern Illinois. YSU would have one ranked win, which is a 31-3 victory over SIU. Logic tells you to take YSU here because of the dominant head-to-head win. But the media poll has SIU No. 11 and YSU No. 22. The coaches poll has SIU No. 15 while YSU is not even ranked. Does the committee's mindset reflect the 80-something total voters? Or do they value the head-to-head? I truly don't know. But in this scenario, either a 7-4 SIU or 7-4 YSU team will be left out, unless the committee does something somewhat unexpected and select seven teams from one conference to make the bracket.
These last two spots are going to be very, very competitive as well.
Elon could give the CAA a fourth bid if it wins out, which would require beating Richmond this weekend, another CAA team in the playoff hunt. The Phoenix would be 7-4 overall and 7-3 vs. the FCS, and its resume would be highlighted by two Top 5 wins over W&M and more recently Delaware. Against several 7-4 teams on the bubble, that Delaware win last week may be stronger than what any other bubble team has, especially if Delaware gets a seed.
Gardner-Webb can secure the Big South-OVC auto-bid if it wins out thanks to its head-to-head on UT Martin. But UT Martin will have a strong argument for an at-large bid if it also wins out, although hosting SEMO and then going to Samford won't be easy. The Skyhawks would be 9-2 overall and 9-1 vs. the FCS. They won't have any standout wins, but their 54th projected year-end SOS isn't terrible, and nine wins going up against seven-win teams on the bubble will stand out.
Bubble Teams
I broke down the MVFC bubble and the potential SIU vs. Youngstown State dilemma above. I get why YSU's head-to-head with SIU makes sense for YSU to have a better argument. But it's also hard to see a team that's been hanging around the Top 10 all year like SIU getting left out. Maybe the committee will put seven MVFC teams in. There is no limit to the number of teams from one conference that can make the bracket. But when we're talking ADs from each auto-bid league, seven teams in just seems unlikely.
Chattanooga could end up getting bumped by Elon and UT Martin if Gardner-Webb wins out to earn the Big South-OVC auto-bid. Chattanooga will be 7-4 overall, 7-3 vs. the FCS with a ranked win over Mercer. The Mocs are another team with a strong argument to get in, but is there room for a fourth SoCon team in the committee's eyes?
UIW going from Top 10 rankings to out of the playoff picture? It may be looking that way after its decisive loss to unranked Nicholls. UIW played a non-D1 opponent, and its game this week against Northwestern State is canceled. The best UIW can finish is now 8-2 overall with one FCS loss, seven D1 wins, no ranked wins, and a projected year-end SOS of 88th. I don't know how that resume beats out YSU, SIU, Chattanooga, Elon, or UT Martin.
Richmond can switch spots with Elon if it gets the head-to-head win this weekend. If Richmond wins vs. Elon and at W&M, it will be 8-3 with a ranked win over Rhody (ranked in the coaches poll that week). If the Spiders lose once, a 7-4 Richmond team doesn't look to have the resume that stacks up well against others.
Holy Cross and Lafayette have one loss in the Patriot League standings, and Lafayette owns the head-to-head win. HC is hoping Lafayette loses again while it wins out to get the AQ. If not, HC's chances at an at-large bid aren't great, but not impossible. Holy Cross' injury-riddled roster will need to beat FBS Army this weekend and then beat Georgetown to finish 8-3. That may be good enough for an at-large bid, but the number of ranked FCS wins will be zero. Does the FBS win carry enough weight for HC to bump multiple teams and get in? Maybe. But if they don't beat Army, who is 3-6, the Crusaders are likely left out at 7-4 and no quality wins.
Central Arkansas may have to earn the UAC's auto-bid to get into the bracket. It doesn't look to have the resume for an at-large bid, not helped by playing a non-D1 opponent. At 6-3 overall and five D1 wins, UCA will be challenged by EKU at home this week. Let's project a win there. Then it's a road game at ranked Austin Peay. The winner there would be the league's auto-bid (if UCA beats EKU this week). Austin Peay will be favored at home by maybe a score. If APSU wins, UCA finishes 7-4 but has only six D1 wins, leaving them out of the bracket. If UCA wins to get the auto-bid, APSU could get an at-large bid with eight D1 wins.