Officials are oftentimes tasked with figuratively impossible calls. On Saturday in Bloomington, officials were tasked with a literally impossible call.
Trailing Penn State by one point in the second overtime, Indiana lined up for a two-point conversion attempt that would give them a second-ever win over the Nittany Lions or lead to a 23rd loss in 24 all-time meetings. Hoosiers' quarterback Michael Penix Jr. scrambled to his left and reached the goal line…said the side judge.
There were three video angles of the play: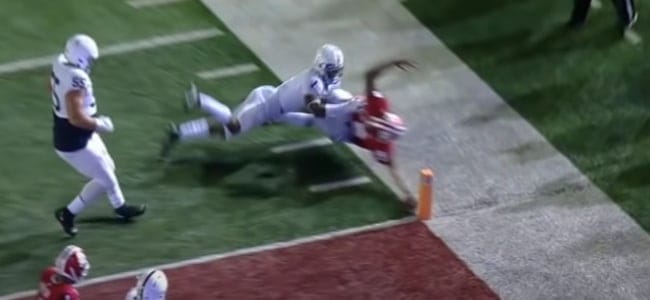 None of the angles show if Penix crossed the plane of the goal line. And, equally as important, none show if Penix did not cross the plane. The only unimpeachable solution is a microchip in the football, though that's not happening anytime soon, if ever. The second-best solution is a goal-line camera in every single FBS game.
Most FBS games are broadcast with 10-20 cameras depending on the network and magnitude of game. Some games have sideline-facing cameras in the pylon, some have cameras on the umpire's hat, and some have cameras fixated on one player or coach for the entirety of the game. There is rarely a goal-line camera and rarely a first-down camera.
This is not a technological issue; ESPN and other networks have used the goal-line and first-down cameras before but they are not used in every game. They were not used in the Penn State-Indiana game, nor are they used in most regular-season FBS games.
If officials initially ruled Michael Penix didn't break the plane, the lengthy review suggested the call wouldn't have been overturned and Indiana would've lost. While the dreaded "call stands" declaration is unfortunate and often results in botched calls, it's unavoidable in many situations. And it might've been unavoidable even with a goal-line camera. But at least we would've had the goal-line camera for a better look at a call that could impact the Big Ten Championship race and College Football Playoff.