The AAC has a decent case as the strongest Group of Five conference on the field. How does the conference stack up from a stadium perspective?
I'd say respectably well, thanks to a few nice venues. Here's a ranking of the AAC's football stadium. 
---
Place College Football Wagers at BetMGM!
---
Best AAC Football Stadiums
14. Tulsa's H.A. Chapman Stadium
Meh. I'm not a huge fan of this venue, which looks a little weird thanks to unusual end-zone seating. 
13. Charlotte's Jerry Richardson Stadium
This stadium doesn't match its AAC peers, although Charlotte does have stadium expansion plans. Until then, Charlotte sits toward the bottom of this ranking. 
12. North Texas' DATCU Stadium
It's not a venue I'm dying to visit, but it's a respectable stadium that keeps North Texas in line with some of its AAC peers.
11. Navy-Marine Corps Memorial Stadium
Is this the best stadium in the AAC? No, but it gets the job done. There aren't any frills, and it looks like a wonderful spot to catch a game. 
10. Rice Stadium
The CUSA additions to the AAC have stadiums that leave a bit to be desired, but I don't hate Rice Stadium. It's a fine venue, but it doesn't stand out from other Group of Five peers.
9. UAB's Protective Stadium
I'm a fan! It's a close-knit environment that promotes a solid game-day atmosphere. It's a little clunky from an aesthetic standpoint, but I like it. 
8. FAU Stadium 
I like it! It's a decent-looking stadium. For the most part, this is a decent stadium. I'm bullish on the program under Tom Herman, and hopefully the Owls can draw strong crowds in the coming seasons. 
7. SMU's Gerald J. Ford Stadium
I like SMU's stadium, although it's not always the rowdiest atmosphere. When filled with people, Gerald J. Ford Stadium has a solid home atmosphere. I'm interested to see the game-day atmosphere when SMU transitions into the ACC. 
6. Tulane's Yulman Stadium
A simple stadium, Yulman Stadium holds its own against AAC peers. It's just a solid stadium that offers a nice spot to watch a good team. 
5. South Florida's Raymond James Stadium
The Bulls share their stadium with an NFL team (Tampa Bay Buccaneers), so it's no surprise that their stadium is one of the nicer facilities in the AAC. Still, I prefer when teams have on-campus stadiums to promote the best game-day atmosphere. 
4. Temple's Lincoln Financial Field
Like South Florida, Temple shares its stadium with an NFL team (Philadelphia Eagles). It's a nice facility.
3. East Carolina's Dowdy-Ficklen Stadium
Any stadium is better when it has great fans, and ECU fans deliver. This atmosphere is tremendous, and the stadium is solid from a visual standpoint. This is one of my favorite AAC venues.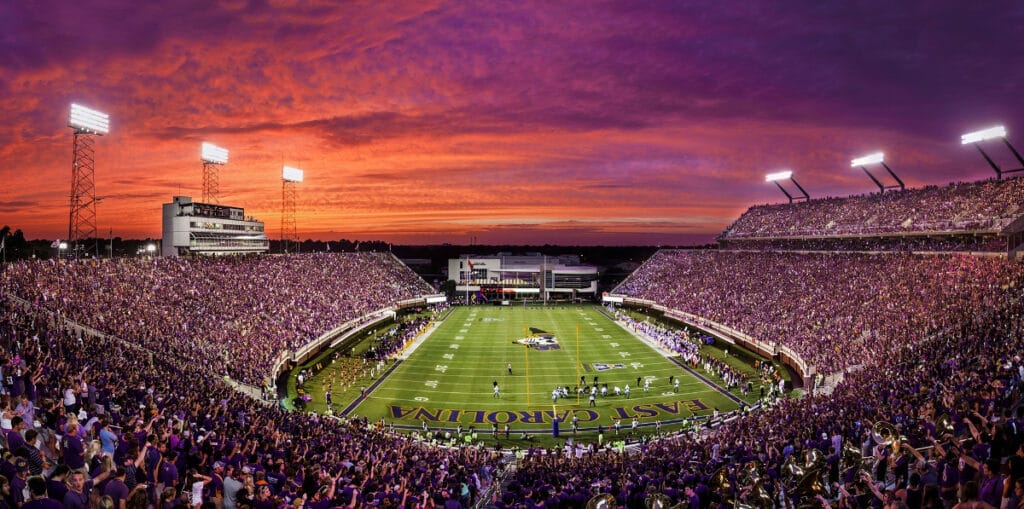 2. Memphis' Simmons Bank Liberty Stadium
Memphis, in many regards, acts the part of a Power Five program. The Tigers' stadium is one of the nicest in the American, which makes sense for a program that views itself among the AAC elite. 
1. UTSA's Alamodome
This place rules. UTSA boasts a strong and improving program, and its stadium is a wonderful venue. It seats more than 50,000 people, as it's a big-time venue.
Bennett Conlin is a college football contributor for HERO Sports, and he works full-time covering sports betting industry news and legislation for Sports Handle and US Bets.