The Sun Belt is one of the most entertaining conferences in the country. The Group of Five league has tremendous regional rivalries.
Regional proximity means fans can travel to watch their teams play on the road without it being a major burden. That means plenty of visits to new college football stadiums.
The Sun Belt features plenty of good stadiums. It also features some odd ones. Which one is the best? I'll share my ranking below, while noting that this is a subjective process.
---
Place College Football Wagers at BetMGM!
---
Best Sun Belt Conference Football Stadiums
14. Coastal Carolina's Brooks Stadium
Coastal Carolina's program is on the rise. The Chanticleers' stadium? Yuck. I don't like artificial turf with bright colors – sorry Eastern Washington and Boise State – so I'm certainly no fan of the teal turf.
13. ULM's Malone Stadium
We've got really high seating on the sidelines and limited seating in the end zones? It's a weird stadium.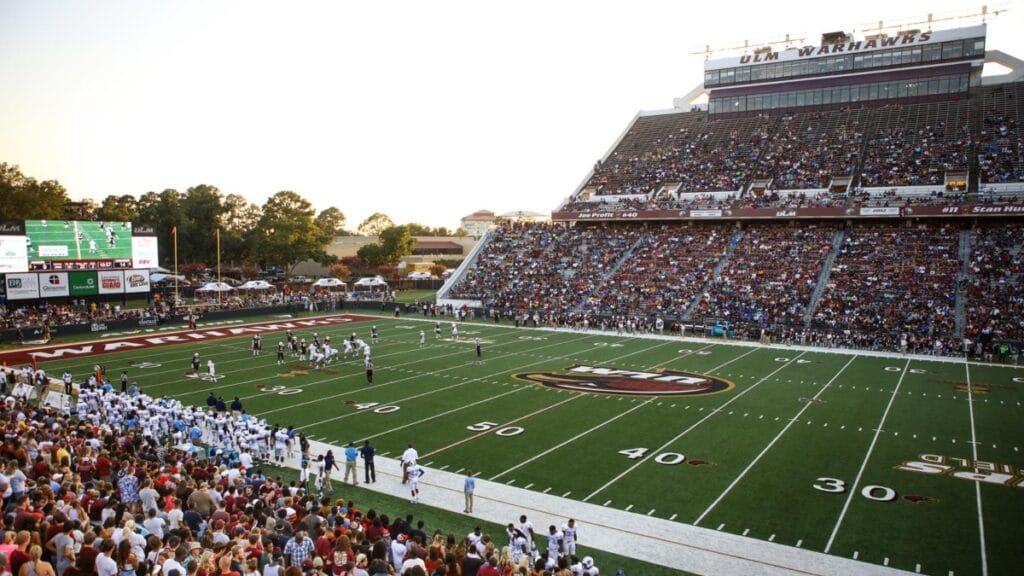 12. Georgia Southern's Allen E. Paulson Stadium
It's just average. I'm not sure how else to describe this facility. It's fine! It's not breaking into the top 10, though.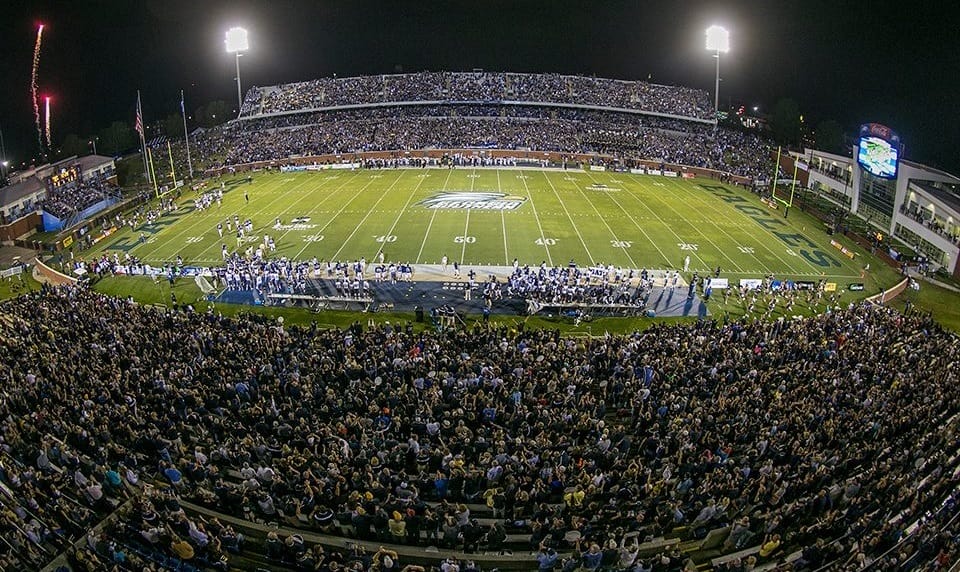 11. Texas State's Bobcat Stadium
This might be a harsh ranking. It's not a bad place, but the visuals don't quite do it for me. It's also hard for me to rank a stadium highly when the atmosphere often stinks due to minimal crowds.
That's a "me problem," yes, but I made the list!
---
For more Group of Five coverage, follow us on Facebook and Twitter.
---
10. Arkansas State's Centennial Bank Stadium
It feels gimmicky. Why is there a waterfall? I attend sporting events to watch sports. I don't need strange water features.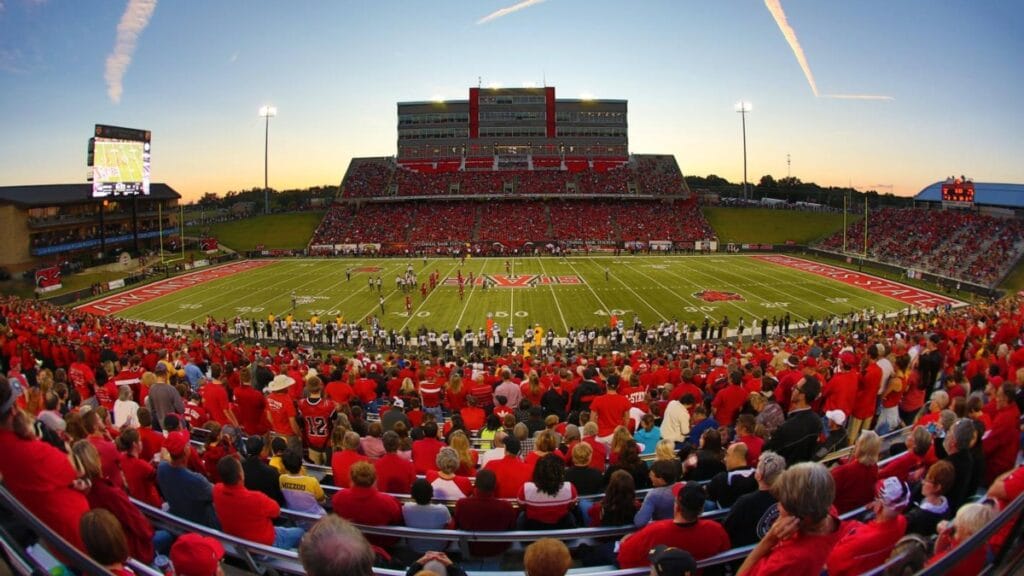 9. ODU's S.B. Ballard Stadium
I don't hate it! I attended a game there last fall and would go back. It's not a horrible spot to watch a college football game, but I don't view this facility as one of the best to watch a game in the Sun Belt.
Like any stadium, the experience would improve with a sold-out crowd. Last year's JMU-ODU game was not sold out.
8. JMU's Bridgeforth Stadium
I have attended dozens of games here. I love Bridgeforth Stadium. I'm also honest.
This is a weird-looking stadium.
One side looks the part of a Power Five facility. The other side, which could be expanded at some point in the future, looks more like a decent high school. The views of the mountains from the press box are phenomenal, and the Dukes play well at home in front of packed crowds.
I'm just not sold on the overall aesthetic.
7. Georgia State's Center Parc Credit Union Stadium
While not the biggest stadium, it's nice. There's something to be said for a nice, simple looking stadium. There's no teal turf. There are no waterfalls. It's good. It's clean. It's simple.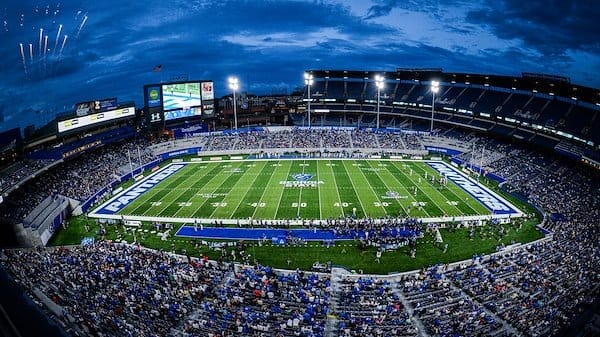 6. South Alabama's Hancock Whitney Stadium
I wish the stands were a bit higher off the ground, but otherwise the stadium looks solid. I could see this venue being an enjoyable place to watch a game.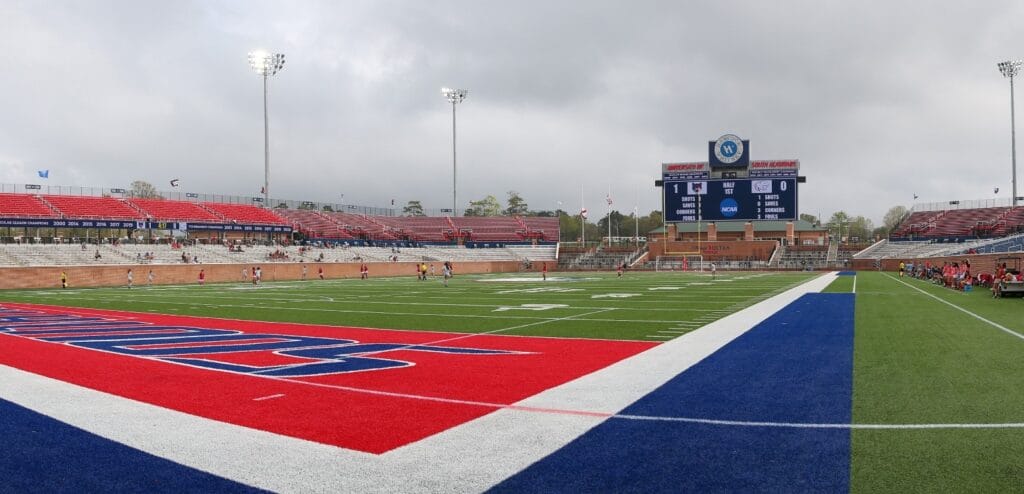 5. Louisiana's Cajun Field
There's nothing overly special about the visuals, but sometimes that's enough to move up the list. The stadium looks normal, which compared to some venues, is a plus.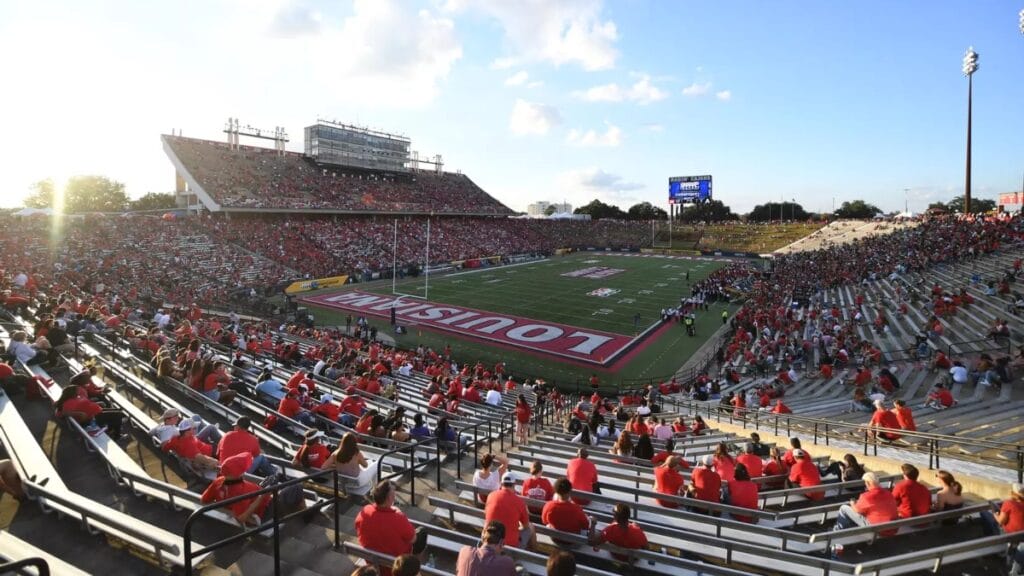 4. Marshall's Joan C. Edwards Stadium
Similar to Georgia State, this is a traditional looking stadium. It's a sizable venue with a tremendous group of fans and an aesthetically pleasing setup.
I dig it. As a JMU alumnus, this trip is near the top of my list of Sun Belt East venues to visit.
3. Troy's Veterans Memorial Stadium
This stadium might not be for everyone, but I love the visuals. The sideline stands look good to me, and the brick behind the one end zone gets me excited. It's unique in a way that I personally enjoy.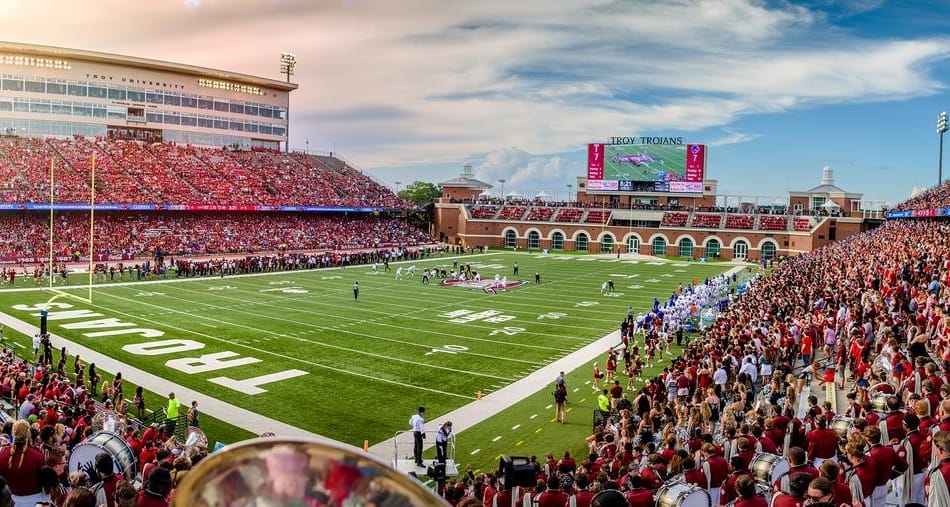 2. Southern Miss' M.M. Roberts Stadium
This venue fits plenty of people, and it looks the part of a top-tier Group of Five Stadium. I want Southern Miss to put it together one of these seasons because this program has elite potential in the Sun Belt. M.M. Roberts Stadium is my favorite venue in the SBC West.
1. App State's Kidd Brewer Stadium
Have you ever seen photos of Kidd Brewer Stadium in the fall? App State fans absolutely pack this place, and it's about as scenic as any venue in the Sun Belt.
I have yet to attend a game at the facility, but I need to remedy that in the immediate future. This place is a perfect spot to watch a Sun Belt game.
Bennett Conlin is a college football contributor for HERO Sports, and he works full-time covering sports betting industry news and legislation for Sports Handle and US Bets.