An FCS fan base took over the Frisco/Plano area in early January and literally drank the bars dry of beer. They filled restaurants. They honked horns in parking lots when seeing fellow fans. They put team flags on their cars or in the windows of their hotels. They shared photos on social media of big gatherings. They created a sea of team colors in the pregame tailgating lots before filling their Toyota Stadium sections across from the main TV camera. They watched their team outclass the opponent in the trenches. They sang songs together as country music blared over the intercom during timeouts as the opposing fan base sat subdued. And they rushed the field when the game clock hit zero, meeting at midfield before making their way to the north end zone to watch their team raise an FCS national title trophy as confetti rains down.
Sound familiar?
Those moments have been reserved for North Dakota State fans for the better part of the last 11 years. This weekend, it was South Dakota State giving the Bison and local establishments the NDSU treatment.
SDSU defeated NDSU 45-21 to win its first FCS national championship. The Jackrabbits extended their winning streak to four games on the Bison, and also handed their rivals their first loss in Toyota Stadium. SDSU ran for 299 yards and totaled 522 offensive yards. Mark Gronowski went 14/21 passing for 223 yards and three TDs. Amar Johnson and Isaiah Davis both went over 100 yards on the ground.
RELATED: NDSU vs. SDSU Highlights
The Jacks controlled the game from the start, building its lead to 28-7 a couple of minutes before halftime. They slowed down the NDSU rushing attack, allowing 160 yards on the ground. And the defense picked off Cam Miller twice. Meanwhile, SDSU's offensive line was gashing the Bison. Even some third-and-long "safe" draw plays resulted in chunk runs for the SDSU backs. NDSU was healthier than maybe expected in this game too at the RB and DL positions. This was not a depleted NDSU starting lineup.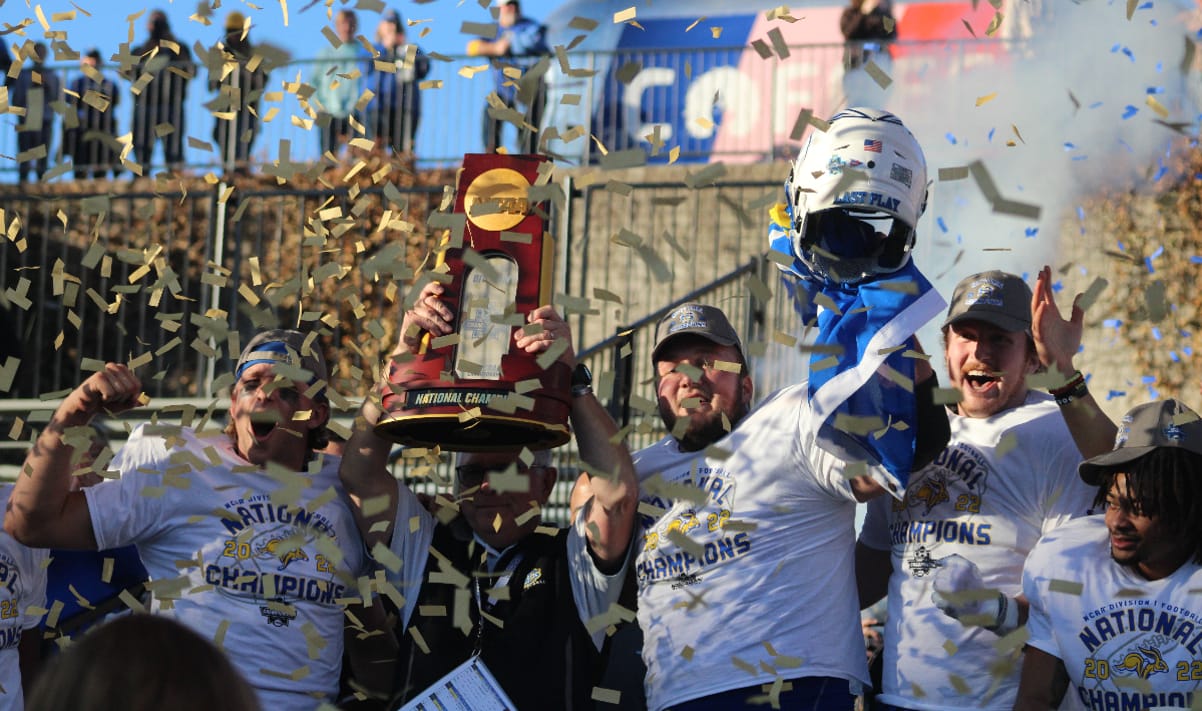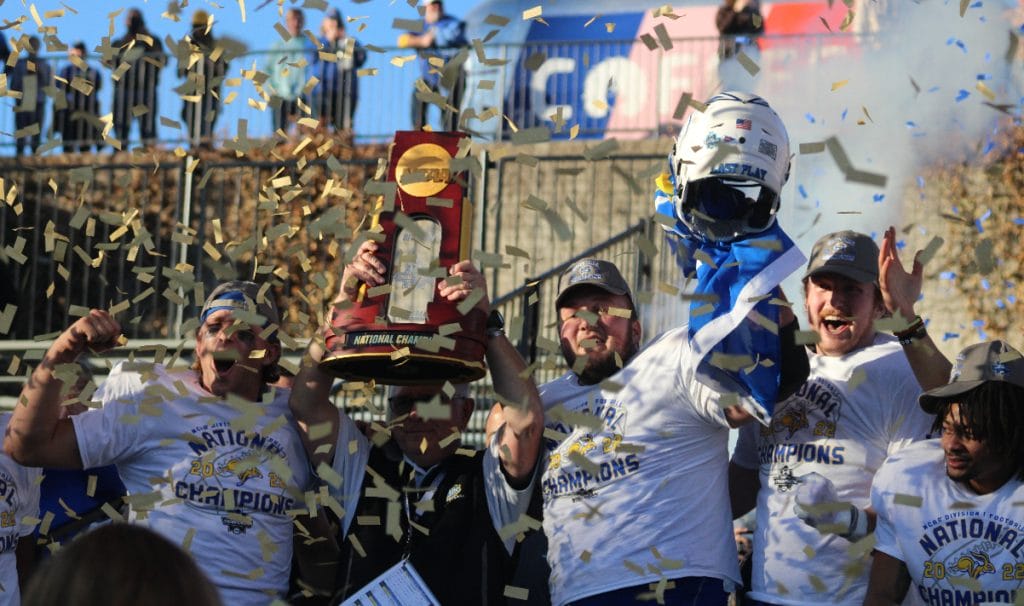 It was a Jackrabbit performance worthy of a national champion – more physical on the lines, balanced on offense, multiple backs over 100 yards rushing, efficient QB play, stifling the run, and forcing turnovers.
"I just kept saying foot on the gas in the second half," SDSU OL Mason McCormick told HERO Sports after the game. "And it wasn't until late in the fourth quarter I looked up and I was like, 'Holy s***, we just did it.' I just gave my best friend Caleb Sanders a hug and I couldn't hold back tears. This is just amazing."
It was a culmination of a program build and a culmination of a memorable weekend for SDSU fans.
The Jackrabbits were slowly closing the gap on the Bison dynasty, beating them several times in the regular season dating back to 2016. But it's been NDSU with the last laugh, hoisting the trophy nine times in Frisco. SDSU finally got over that postseason hump today, beating the Bison for the first time in the FCS playoffs. This was the last box the Jacks had to check. And they did it emphatically.
Many times, it's the Bison fans enjoying a couple of days of pre-championship festivities with strong confidence their team will win. It was the opposite this year. SDSU fans carried a swagger to them. It was a feeling of interacting with a fan base that knew something special was coming. And they showed it in strong numbers. They turned local establishments into their establishments. They drank The Local Shacks dry of beer, they cheered as needed pallets of more arrived hours before bar close, and the fire marshal had to make a couple of different visits.
It was pregame and then postgame festivities their rival has enjoyed countless times. SDSU made it their turn this weekend. And with plenty of star power returning, including getting bonus sixth years next season from its top two OL Garret Greenfield and McCormick and its top two WRs Jaxon and Jadon Janke, SDSU may be turning this into their January tradition as well.
"This is an unreal feeling," McCormick said. "All of the support here, all of the work we put in. It's come full circle, and it feels amazing."