The 2023 FCS playoff bracket has 10 auto-bids and 14 at-large bids. Eight teams will be seeded with first-round byes.
How the playoff field changes and takes shape every week is fascinating. So after every weekend of games moving forward, I will predict what the bracket will look like.
Below are predictions for the seeds, auto-bids, at-large bids, the bracket, and which teams are on the bubble.
Place College Football Wagers at BetMGM
Notes
These predictions take current playoff resumes and all future scheduled games into consideration.
This is through the eyes of the playoff committee and what I think they will do.
---
The Field
2021-2022 Final Bracketology Accuracy: 14/16 seeds correct, 46/48 teams correct
Seeds
These are playoff predictions and don't reflect my current Top 25. The numbers associated with teams may not match where I currently rank them on my ballot.
1. South Dakota State
2. Montana State
3. Furman
4. South Dakota
5. Delaware
6. Montana
7. Western Carolina
8. Idaho
Auto-Bids
Big Sky – Montana State
Big South-OVC – UT Martin
CAA – Delaware
MVFC – South Dakota State
NEC – Duquesne
Patriot – Holy Cross
Pioneer – Davidson
SoCon – Furman
Southland – UIW
UAC – Central Arkansas
At-Large Bids
Ordered from most likely to least likely to get in. Seeded teams who are not their conference's auto-bid will be at the top.
South Dakota (seed)
Montana (seed)
Western Carolina (seed)
Idaho (seed)
North Dakota
Sacramento State
North Dakota State
Villanova
UAlbany
William & Mary
21. Youngstown State
22. Southern Illinois
23. Austin Peay
24. Chattanooga
Bubble Teams Left Out
Ordered from the best chance to make the bracket out of this group to the worst chance.
25. UC Davis
26. Mercer
27. New Hampshire
28. Fordham
29. Tennessee State
30. Eastern Kentucky
---
The Bracket
The FCS playoff bracket is regionalized to save on travel costs. The committee tries to utilize as many bus trips as possible in the first round. Bus trips (400 miles or less) are Duquesne-Villanova, UAlbany-Holy Cross, Austin Peay-Chattanooga, UT Martin-Central Arkansas, Davidson-William & Mary.
If a conference has four or more teams in the bracket, the committee can add an extra flight to avoid having all teams on one side of the bracket.
The committee avoids conference matchups in the first round if the two teams played each other in the regular season. However, if two conference teams did not play each other during the regular season, they may be paired up in the first round. Regular-season non-conference rematches should be avoided in the first round.
Once first-round teams are paired up via proximity, they will be slotted with the seeds that are (again) as close as possible regionally.
Teams at the top of each matchup in the bracket below indicate who we project would host, which is determined by either bid amount, revenue potential, or sometimes who is more deserving.
The order of seeds is NOT determined by regionalization. The seeds also can't be adjusted once set to even out the sides of the bracket.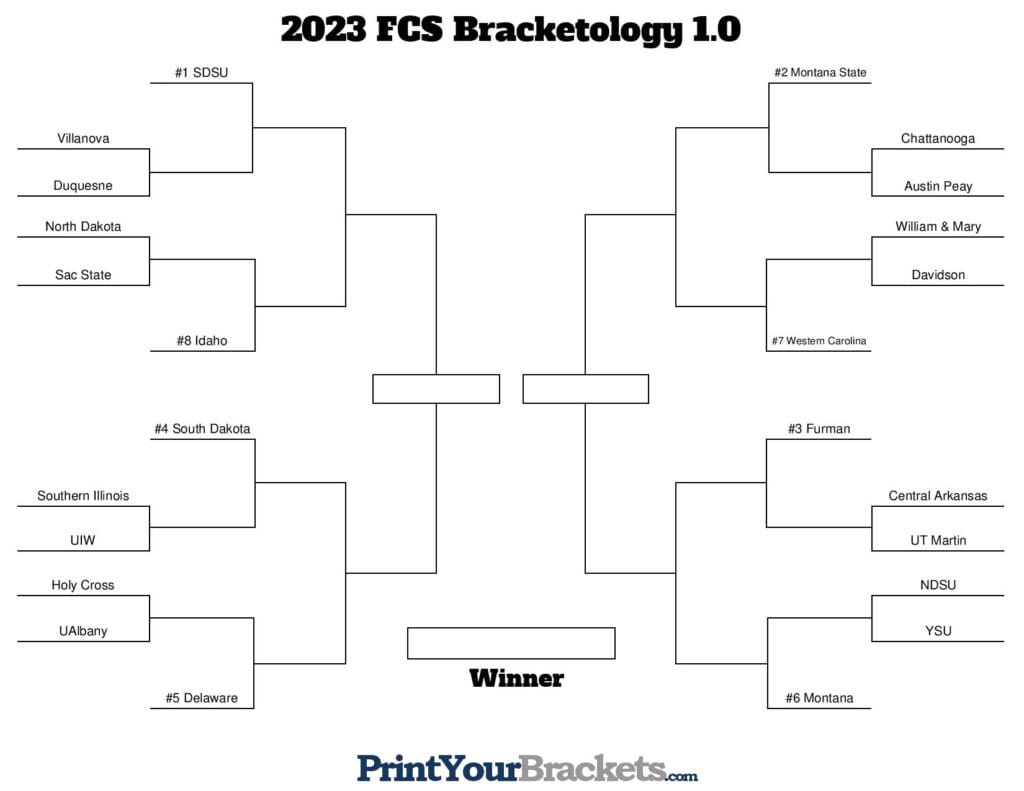 ---
The Explanation
As stated above, keep in mind this does factor in future games.
Seeds
The playoff committee considers ranked wins as victories over teams who were ranked at the time of the game. They also factor in the overall opponent record, so it evens out if a team has a ranked win at the time and that opponent then goes on to not be ranked.
Ranked wins below are using the media poll rankings to keep consistency in the resume breakdowns.
South Dakota State is 6-0 with two ranked wins over Montana State and UND. The Jacks have dominated every opponent besides MSU. The next four games are against currently-ranked opponents (at SIU, at USD, vs. NDSU, at YSU). Right now, it looks promising that SDSU can make it through the regular season undefeated. Even one loss could still get them a Top 2 seed and home-field advantage at 10-1 and around five ranked wins, especially with the head-to-head over Montana State, who will also be in the running for a Top 2 seed.
Montana State is 5-1 with a ranked win over Weber State. Road tests are coming at three Top 10 teams: Sac State, Idaho, and Montana. One loss somewhere in those games could drop MSU to the 3 or 4 seed at 9-2, depending on what happens elsewhere. But with how they're playing, the Bobcats will be favored in each game. A 10-1 MSU team with four ranked wins is the No. 2 seed.
Furman is a well-built team and has a shot to finish undefeated vs. the FCS. It is 5-1 overall and 5-0 vs. the FCS with one ranked win over Mercer. Road tests come this weekend at Top 10 WCU and at ranked Chattanooga in early November. I'll put Furman as the favorite in both, and if the Paladins do run the table, a Top 4 seed is deserved.
South Dakota is 5-1 overall and 5-0 vs. the FCS with two ranked wins over NDSU and YSU. Ranked opponents to come are vs. SDSU, at SIU, and vs. UND. I'll mark down that SDSU game as a loss. But the Coyotes have a good shot to win out elsewhere with their schedule. At 9-1 vs. the FCS and four ranked wins, that looks good to be a Top 4 seed.
Delaware is 5-1 overall and 5-0 vs. the FCS. The Blue Hens have a ranked win over UNH. The schedule sets up nicely for Delaware. They don't see a ranked opponent until the regular-season finale at home vs. Villanova. The Blue Hens may lack a high number of ranked wins, but if Delaware can avoid stubbing its toe and then get a home win over rival Nova, an undefeated vs. FCS Delaware team out of the respectable CAA will likely be given a Top 5 seed by the playoff committee.
Montana is 6-1 overall and 5-1 vs. the FCS with two ranked wins over UC Davis and Idaho. Its non-D1 win over Ferris State still counts on its playoff resume, but having one less D1 win than other seedable teams and a loss to unranked NAU could knock its resume. Montana's schedule and its current play on the field sets up for a 9-1 record heading into the Brawl of the Wild, which would include beating Top 10 Sac State in Missoula. Let's pencil in a loss vs. MSU, but a 9-2 Montana team with three ranked wins should be a seed.
Western Carolina and Furman can flip spots if WCU beats them this weekend. The Catamounts are currently 5-1 overall and 5-0 vs. the FCS with two ranked wins over Samford and Chattanooga. They also get a home test vs. a playoff-potential Mercer team a week after Furman. WCU should win the final three games after those two matchups. If the Catamounts split the Furman and Mercer games, a 9-1 FCS record with 2-3 ranked wins should be a seed. If they win out, a Top 4 seed should happen at 10-0 vs. the FCS.
The No. 8 seed will be competitive. UIW will be in the mix, but its strength of schedule and lack of ranked wins may prevent it from being seeded. Sac State also has potential, but it has some tough games coming that I mark down as losses. NDSU may be considered if it goes 8-3, but three FCS losses and a blowout loss to UND make a seed unlikely, assuming the Bison lose to SDSU.
Projecting ahead, Idaho may have the best case for the No. 8 seed. The Vandals are 5-2 overall, 4-1 vs. the FCS, have an FBS win over Nevada and an FBS loss, and have two ranked wins over Sac State and EWU. A win over No. 2 Montana State on Oct. 28 puts Idaho in Top 4 seed conversation looking at its remaining schedule. But I will pencil in a loss to MSU followed by wins over Northern Colorado, Weber State, and Idaho State. At 8-2 vs. the FCS with the two ranked wins plus an FBS win and a strong strength of schedule, that may be enough for the last seed.
Auto-Bids
I'll provide more thoughts on conference title races as more games are played. But this is pretty straightforward on who I think earns their conference's AQs.
At-Large Bids
After the four at-large bids that are seeds…
North Dakota is 4-2 overall and 4-1 vs. the FCS with a ranked win on NDSU. The loss is to No. 1 SDSU. Its path to at least seven wins looks favorable with games coming against Indiana State, Murray State, and Illinois State. This weekend's game will be huge at UNI to remain in the seed conversation. Another ranked opponent comes in November at USD. Let's say they split the UNI and USD games to finish 8-3.
Sac State is 5-1 overall with an FBS P5 win over Stanford. Its loss is a close one to ranked Idaho. The Hornets should hit seven wins by beating Idaho State and Cal Poly. Winning at UC Davis could be a challenge to end the regular season, but I will favor them there. If Sac State splits games vs. Montana State and at Montana, a seed is likely at 9-2. But let's project an 8-3 record right now with two losses to the Montana schools.
North Dakota State is 4-2 overall with losses to USD and UND. The Bison don't have any then-ranked wins, but did beat Central Arkansas, who is now ranked. NDSU will likely have to win out to get a seed, which would include winning at No. 1 SDSU. Although a way to get a seed at 8-3 would be to beat SDSU and a loss happened elsewhere. I'll pencil in the Bison losing in Brookings, though. They will improve to 6-2 by beating WIU and Murray State before losing at SDSU. NDSU needs to then split games vs. ranked SIU and at UNI in the final two games and the committee will put them in at 7-4. If the Bison lose those last three games, they are left out at 6-5 with no then-ranked wins.
Villanova is 5-2 overall and 5-1 vs. the FCS with a ranked win over Rhody. The path to seven victories looks promising by winning vs. Stony Brook and vs. Towson. If the Wildcats can split games at unranked UNH and at ranked Delaware, which we project them to do, they are in the field at 8-3. Losing two more games and you put your seven wins against many other seven-win teams on the bubble.
UAlbany is 4-3 overall and 4-1 vs. the FCS with a ranked win over Villanova. Its loss is to now-unranked UNH. The Great Danes look capable of winning vs. Rhody, at Maine, at Stony Brook, and vs. Monmouth to hit eight wins. A ranked game vs. W&M could result in the winner being in the discussion for a seed at 9-3. UAlbany was allowed to play 12 games due to playing Week 0 and playing at Hawaii.
William & Mary is 4-2 overall and 4-1 vs. the FCS. It has no ranked wins and a loss to currently unranked Elon. The Tribe doesn't have a tough schedule ahead: vs. Towson, vs. Monmouth, at UAlbany, at Hampton, and vs. Richmond. Winning out could result in a seed at 9-1 vs. the FCS, although a lack of ranked wins may prevent that. But W&M should hit at least eight wins and make the playoffs.
Youngstown State is 3-3 overall and 3-2 vs. the FCS. The losses are to unranked UNI and ranked USD. It has a ranked win over SIU (31-3), which will be a big factor on the bubble. Right now, we think YSU goes 7-4 with wins over Illinois State, Missouri State, Indiana State, and Murray State with a loss to No. 1 SDSU.
Southern Illinois is 5-1 overall with an FBS win over Northern Illinois and a ranked win vs. SEMO. Its one loss is to ranked YSU. SIU should hit seven wins by beating WIU and Indiana State. It could run into trouble by potentially losing ranked games vs. SDSU, vs. USD, and at NDSU. Win one of those and SIU is in at 8-3. Even at 7-4 and the FBS win, the Salukis will have an edge over other seven-win teams on the bubble. But its 31-3 head-to-head loss to YSU will be a factor if both finish with the same record.
Right now, that is six MVFC teams in the bracket. Let's see how things play out and if that actually happens. But it looks like those six teams can hit at least seven wins, all with a quality win or wins to point to. Plus, there is an extra at-large bid this year compared to 2022 with the Big South and OVC merging, the Southland looks like a one-bid league instead of two, the Big Sky may have one less bid than last year with EWU and Weber falling back plus UC Davis on the bubble, and the CAA may not be deemed strong enough to get five bids in like last year. That all opens the door for six MVFC teams currently positioned well to make the bracket.
Austin Peay is 4-2 overall and 4-1 vs. the FCS with no ranked wins and a loss to ranked SIU. The Govs do have some challenging games ahead, but I will pencil them in for wins at SUU, vs. North Alabama, and Utah Tech. And then splitting games at EKU and ranked Central Arkansas gives them a good argument at eight wins.
Can the SoCon get a third team in the bracket this year? Chattanooga is 5-2 overall/vs. the FCS with a ranked win over Samford. The losses are to North Alabama and WCU. The Mocs should hit seven wins by beating ETSU and VMI. The issue is the last two games. They host a Top 10 Furman team and then play at Alabama. Winning the next two and then beating Furman seals a playoff bid. Lose to Furman, and Chattanooga is right on the bubble at 7-4.
Bubble Teams
UC Davis is 4-3 overall and 4-2 vs. the FCS with a ranked win over Weber State. Games to come are at NAU and vs. Portland State, which are not gimmes, then at Idaho State, and finally vs. Top 10 Sac State. UC Davis can potentially hit seven wins with that schedule as I'll pencil in a loss to Sac State. UC Davis may lack a needle-moving win to get in at 7-4, but you could say the same about Chattanooga above. The committee sometimes mirrors the polls, and right now Chattanooga is ranked ahead of UC Davis in both.
Mercer is 4-3 overall and 4-2 vs. the FCS. It can hit seven wins by beating Wofford, The Citadel, and Samford. I will pencil in a loss to Top 10 WCU. And with head-to-head losses to other SoCon playoff teams Furman, Chattanooga, and WCU, it leaves Mercer on the wrong side of the bubble with no ranked wins.
New Hampshire is 3-3 overall and 3-2 vs. the FCS with a ranked win over UAlbany. The losses are to ranked Delaware and unranked Towson. With games at Stony Brook, at Rhody, vs. ranked Villanova, at Monmouth, and vs. Maine, UNH can be anywhere from six to eight wins. Let's see after the Rhody and Nova contests where UNH is at and we will adjust accordingly.
Fordham is 5-2 overall with an FBS win over Buffalo and two FCS losses to UAlbany and Georgetown. Let's pencil in Fordham losing to Holy Cross, but if it beats Bucknell, Lafayette, and Colgate, an eight-win Fordham team with an FBS win will get consideration.
Keep an eye on Tennessee State out of the Big-South OVC as the conference's second bid. The Tigers are 4-2 overall and 4-1 vs. the FCS with the loss to ranked UT Martin. They do play non-D1 Lincoln, which will hurt them in the total D1 wins category for bubble consideration. But there are winnable games remaining vs. Lindenwood, at Charleston Southern, at EIU (EIU can also be in the playoff mix), and vs. Tennessee Tech. It isn't out of the question for TN State to go 9-2 with eight D1 wins. At EIU (4-3, 4-2 vs. the FCS) could be a swing game for both. A lack of ranked wins and strength of schedule may be a concern when it comes to the bubble.
Eastern Kentucky is 3-3 overall and 3-1 vs. the FCS with a ranked win over SEMO. It has a close FCS loss to WCU. Challenging games remain at a talented Gardner-Webb team that beat EKU in last year's bracket, vs. ranked Austin Peay, at ranked UCA, and vs. SFA. I'll be monitoring EKU's path to seven wins.