One weekend of games remains before the FCS playoff bracket is revealed. So much is in the air on who's in, who's out, and who will be seeded.
Let's take a stab at it anyway. Below are predictions for the seeds, auto-bids, at-large bids, the bracket, and which teams are on the bubble, factoring in Week 12 predictions.
Place College Football Wagers at BetMGM
Notes
These predictions take current playoff resumes and Week 12 games into consideration.
This is through the eyes of the playoff committee and what I think they will do.
For more background on the playoff selection process, check out this interview with FCS Playoff Committee Chair Kent Haslam.
---
The Field
2021-2022 Final Bracketology Accuracy: 14/16 seeds correct, 46/48 teams correct
Seeds
1. South Dakota State
2. Montana
3. Furman
4. South Dakota
5. Delaware
6. Idaho
7. Montana State
8. UAlbany
Auto-Bids
*Clinched
Big Sky – Montana
Big South-OVC – Gardner-Webb
CAA – Delaware
MVFC – South Dakota State*
NEC – Duquesne
Patriot – Lafayette
Pioneer – Drake
SoCon – Furman*
Southland – Nicholls*
UAC – Austin Peay
RELATED: Auto-Bid Scenarios
At-Large Bids
Ordered from most likely to least likely to get in. Seeded teams who are not their conference's auto-bid will be at the top.
South Dakota (seed)
Idaho (seed)
Montana State (seed)
UAlbany (seed)
Sacramento State
Villanova
Mercer
Northern Iowa
North Dakota
North Dakota State
21. Western Carolina
22. UT Martin
23. NC Central
24. UIW
Bubble Teams Left Out
Ordered from the best chance to make the bracket out of this group to the worst chance.
25. Youngstown State
26. Southern Illinois
27. Richmond
28. Chattanooga
29. Eastern Illinois
30. Holy Cross
31. Central Arkansas
---
The Bracket
The FCS playoff bracket is regionalized to save on travel costs. The committee tries to utilize as many bus trips as possible in the first round. Bus trips (400 miles or less) are Duquesne-Villanova, Gardner-Webb-Mercer, Drake-Northern Iowa, NC Central-Western Carolina, and UT Martin-Austin Peay.
If a conference has four or more teams in the bracket, the committee can add an extra flight to avoid having all teams on one side of the bracket.
The committee avoids conference matchups in the first round if the two teams played each other in the regular season. However, if two conference teams did not play each other during the regular season, they may be paired up in the first round. Regular-season non-conference rematches should be avoided in the first round.
Once first-round teams are paired up via proximity, they will be slotted with the seeds that are (again) as close as possible regionally.
Teams at the top of each matchup in the bracket below indicate who we project would host, which is determined by either bid amount, revenue potential, or sometimes who is more deserving.
The order of seeds is NOT determined by regionalization. The seeds also can't be adjusted once voting results are complete.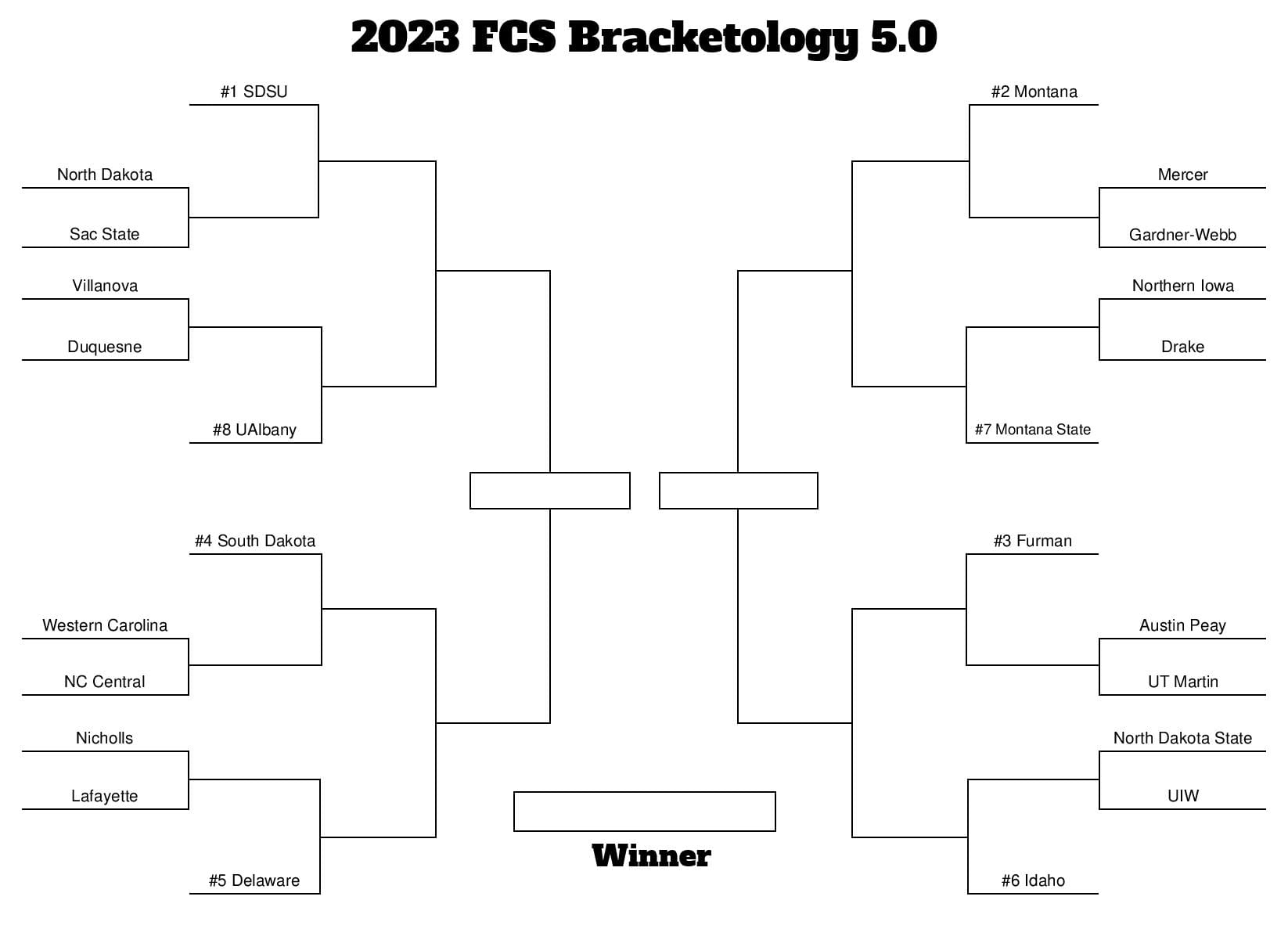 ---
The Explanation
As stated above, keep in mind this does factor in Week 12 predictions.
Seeds
The playoff committee considers ranked wins as victories over teams who were ranked at the time of the game. They also factor in the overall opponent record, so it evens out if a team has a ranked win at the time and that opponent then goes on to not be ranked due to several losses.
Ranked wins below are using the media poll rankings to maintain consistency in the resume breakdowns.
South Dakota State should beat Missouri State to convincingly grab the No. 1 seed at 11-0. The Jackrabbits certainly earned it, defeating seven teams currently ranked.
Montana has a strong argument for the No. 2 seed if it beats Montana State. The Grizzlies would be 10-1 overall with nine D1 wins, four ranked wins (three over Top 7 teams), but an unranked loss to Northern Arizona. Furman, currently No. 2 in both national polls, will also have a good argument for the second seed, assuming it beats Wofford. The Paladins would be 10-1 overall and 10-0 vs. the FCS with three ranked wins. They would own one more D1 win than Montana and no FCS losses. Why I lean the committee giving Montana the No. 2 is due to the higher number of ranked wins, the three Top 10 wins, and Montana's projected year-end SOS of 31st compared to Furman's 69th.
Keep an eye on South Dakota to also factor into this. The Coyotes will have a damn good resume, assuming they beat WIU. USD would be 9-2 overall and 9-1 vs. the FCS with its only loss to No. 1 SDSU. It would own four ranked wins, three against Top 10 teams. And its projected year-end SOS is 19th. You could argue the Coyotes should be higher than No. 4. But it's also hard to see USD bumping a Montana team and its wins down the stretch and a 10-0 vs. the FCS Furman team that is No. 2 in the polls.
If Delaware beats ranked Villanova at home, the Blue Hens can likely seal a seed at 9-2 overall and 9-1 vs. the FCS with two ranked wins. They have been ranked in the Top 8 in the polls for a good chunk of this season, and the committee probably mirrors that.
Idaho suffered a tough loss last week at unranked Weber State. But the Vandals could still have a seedable resume if they beat Idaho State on Saturday. They would be 8-3 overall, featuring three ranked wins (two Top 5), an FBS win over Nevada, two FCS losses, and a projected year-end SOS of 9th.
Montana State could jump into the Top 3 seeds if it beats Montana. If the Bobcats lose, they will still have an argument for a seed. They would be 8-3 with two ranked wins, both at Top 10 teams. The losses would be at Top 5 teams SDSU, Idaho, and Montana. The SDSU and Idaho losses were by literal inches, and the committee does factor in who you lost to and how you lost. And finally, MSU's projected year-end SOS is 5th. The committee has said it's their job to seed the best eight teams. And MSU, even at 8-3, has a strong argument that it is a Top 8 FCS team.
The No. 8 seed will be competitive. It could be a 9-2 Austin Peay team ending the regular season on a 9-game winning streak. It could be an 8-3 Sac State team with an FBS P5 win. It could be an 8-3 NDSU team with two ranked wins if the Bison win at UNI, although this bracketology predicts a UNI victory.
UAlbany may have the best case if projections become reality. The Great Danes would be 9-3 overall and 9-1 vs. the FCS, featuring two ranked wins and two competitive FBS losses. The winner of the Delaware/Villanova game will likely be a seed. If Nova wins, that amplifies UAlbany's case for a seed even more due to its 31-10 win over Nova. Its SOS will be around 32nd, which isn't superb, but it's not bad. UAlbany has also risen rapidly in the polls in recent weeks, climbing to No. 12. If No. 10-ranked Villanova and No. 9 NDSU lose, the Great Danes could jump them in the seed discussion. And they would have a better resume than No. 8 Sac State. The committee doesn't always mirror the polls, but sometimes their thinking falls in line with how voters are thinking.
---
BetMGM Promotions: Check out BetMGM's Top Promotions
---
At-Large Bids
After the four at-large bids that are seeds…
Sacramento State should be in if it beats UC Davis at 8-3 overall and an FBS P5 win over Stanford. The Hornets could possibly be a seed if other results go their way.
Villanova can be a seed if it beats Delaware. Even with a loss, Nova is likely still in the bracket at 8-3 overall, 8-2 vs. the FCS, one ranked win, and a Top 10 national poll ranking this week.
Mercer has a bye, but it likely sealed a playoff bid with a win last week. The Bears are 8-3 overall and 8-2 vs. the FCS, owning a ranked win over Western Carolina, another playoff-worthy team from the SoCon.
Northern Iowa is projected to beat NDSU in this bracketology. The Panthers should be in at 7-4 and three ranked wins. They will be out if they lose.
North Dakota has to handle business at home against 6-4 Illinois State. The Fighting Hawks will likely be in at 7-4 if they win, as their 49-24 head-to-head win over NDSU (also 7-4 in this bracketology) will carry a lot of weight.
North Dakota State will be in the seed conversation if it wins at UNI to finish 8-3. But we'll project a loss against a UNI team that's at home, with its back against the wall, and with a passing attack looking to get after the Bison secondary. But even if the Bison lose, they are still likely in the bracket at 7-4 and a 34-10 win over SIU, another 7-4 team on the playoff bubble.
Western Carolina should win at VMI to finish 8-3 overall, 8-2 vs. the FCS, and two ranked wins. It's been a few years since the playoff committee put more than two SoCon teams in the bracket. But Furman, Mercer, and WCU all deserve to get in, while Chattanooga will have a case as well at 7-4.
UT Martin has a non-conference game at a dangerous but unranked Samford team. If the Skyhawks win, they should be in the bracket at 9-2 overall and 9-1 vs. the FCS. They would be an at-large bid out of the Big South-OVC if Gardner-Webb beats Charleston Southern to secure the auto-bid. If GW loses, UT Martin would be the AQ and G-W would not be an at-large bid at 6-5. Bubble teams should root for G-W to lose.
NC Central is now in strong consideration for an at-large bid, an unexpected scenario last week until Howard upset the Eagles. And now if Howard wins on Saturday, it will clinch the MEAC's berth in the Celebration Bowl. NC Central, meanwhile, should beat Delaware State to finish 9-2. The Eagles would have a ranked win over Elon, but its SOS will be in the upper 90s. It's not the best resume, although NC Central has been in the Top 10 in the recent polls, something that is hard to ignore. I think the committee would award the Eagles an at-large bid if they win and Howard wins. Bubble teams should root for Howard to lose and NC Central to win so the Eagles instead head to the Celebration Bowl.
If UIW beats HCU, it will finish 8-2 with seven D1 wins, no ranked wins, and an SOS in the 80s. I don't know how that beats some of the resumes below. But I have to remind myself that I'm trying to predict what the committee would do. The committee is made up of 10 people with differing opinions. Just like the media poll and coaches poll have a panel of differing views. UIW is 20th in the media poll this week despite its below-average resume. It is 11th in the coaches poll. That may play into the committee's mindset. Name recognition also doesn't hurt, even if it's a subconscious thing for committee members. And the Cardinals were in the semifinals last year. My gut tells me the committee will put UIW in.
Bubble Teams
Youngstown State and Southern Illinois could battle it out for the last playoff bid and a sixth bid from the MVFC. But the bubble got more packed with UIW and NC Central losing. YSU and SIU should finish 7-4. SIU has an FBS win and a good win over Austin Peay. But YSU has a dominant head-to-head win over SIU. We'll see how the results shake out on Saturday and what the bubble looks like, but there is a scenario where both get left out.
If Richmond beats W&M, it will be 8-3 with a ranked win over Rhody (ranked in the coaches poll that week). There's also a chance the Spiders could earn the auto-bid, depending on the tiebreakers. If they don't get the AQ, even at 8-3 the Spiders may not have the resume to get in. Richmond would not have a win over a team in the playoff field, and it hasn't been ranked for the majority of this season.
Chattanooga could end up getting bumped by NC Central, UIW, a 7-4 YSU/SIU team, or an 8-win Richmond team. Chattanooga will be 7-4 overall, 7-3 vs. the FCS with a ranked win over Mercer. The Mocs are another team with a strong argument to get in with its victory over a team in the bracket (Mercer), but is there room for a fourth SoCon team in the committee's eyes?
Eastern Illinois can finish 8-3 overall and 8-2 vs. the FCS if it beats Robert Morris. An issue for EIU will be no wins over teams in the field. However, if Illinois State (who EIU beat) knocks off UND to finish 7-4, that helps EIU's argument.
Holy Cross can earn the Patriot League auto-bid if it beats Georgetown and Lehigh beats Lafayette. But Lafayette losing doesn't seem likely. HC's case for an at-large bid may not stack up well compared to other teams. It would be 7-4 overall and 7-2 vs. the FCS with two one-score losses to FBS teams. But the Crusaders do not own any ranked wins. And they are not ranked in the media poll and are only No. 25 in the coaches poll.
Central Arkansas may have to earn the UAC's auto-bid to get into the bracket. It doesn't look to have the resume for an at-large bid, not helped by playing a non-D1 opponent. Currently 7-3 overall with six D1 wins, UCA faces a road game at ranked Austin Peay. The winner would be the league's auto-bid. If APSU wins, UCA finishes 7-4 but has only six D1 wins, leaving them out of the bracket. If UCA wins to get the auto-bid, APSU could get an at-large bid with eight D1 wins. Although a 7-4 SIU team could push out an 8-3 Austin Peay team due to a head-to-head victory.